Belgian pianist Fem Devos finished her bachelor's degree in the conservatorium of Ghent in 2016 with Vitaly Samoshko. She continued her studies in Maastricht with Katia Veekmans, where she spent three years improving all aspects of piano playing, discovering new repertoire and developing as a performer. She obtained her master's degree with the highest possible mark for piano.
Studying in Maastricht has opened up many opportunities for her. She expanded her view on life and in the musical world and confirmed once more her love for music and for being behind the piano.
In April 2019 she was selected to play in the final of the Music Award Maastricht, where her performance of Rachmaninov's second piano sonata was really well received. In 2013, Fem received a 2nd prize at the Belfius Classics.
As a soloist, Fem has played on stages in Maastricht, Paris, Brussels, Liège, Ghent, Kortrijk, Heerlen, amongst others. In 2019, Fem performed Camille Saint-Saëns' 5th piano concerto with the University Orchestra of Maastricht as well as with the Continuo Orchestra in Ghent.
Together with Dutch violinist Emma Rhebergen and American cellist Anna Litvinenko, Fem plays in the Chekhov Trio, an international and prize-winning piano trio which was founded in Maastricht in 2016. They like to treat chamber music as a form of theatre: they seek to communicate narrative and dialogue through their endless exploration of characters and roles within the music they perform.
The trio has performed on many stages throughout Belgium and The Netherlands, and has had several appearances on Dutch national radio. It has also achieved success in international competitions, winning the second prize and special "KCB Award" in the 2018 International Music Competition Triomphe de l'Art in Brussels, and being finalists at the 2019 Ysaÿe International Music Competition in Liège. A recent highlight has been the release of an Etcetera label recording of the works of Hans Kox, featuring their performance of his piano trio. 
Besides spending a lot of time with the trio, Fem also works regularly together with singers and other instrumentalists. She forms a duo with Serbian mezzo-soprano Teodora Drozdik-Popović and a four hands piano duo with Scottish pianist Anna Michels.
As a passionate musician, Fem is always looking for new inspiration. She developed herself during additional piano masterclasses with Julien Libeer, Ellen Corver, Valentina Berman, Enrico Pace, Daniel Blumenthal, Philippe Entremont, Marie-Noëlle Damien, amongst others.
Next to her career as a performer, Fem works part time as Piano Consultant for Piano's Maene, Belgium's most well known piano shop and exclusive distributor of Steinway & Sons. Working there has given her a new perspective on the process of manufacturing pianos and its worth in general, which made her appreciate the instrument even more.
Fem has as well been teaching private lessons piano to children from the age of 5, teenagers and adults. She has obtained her teaching degree at the Royal Conservatoire of Brussels.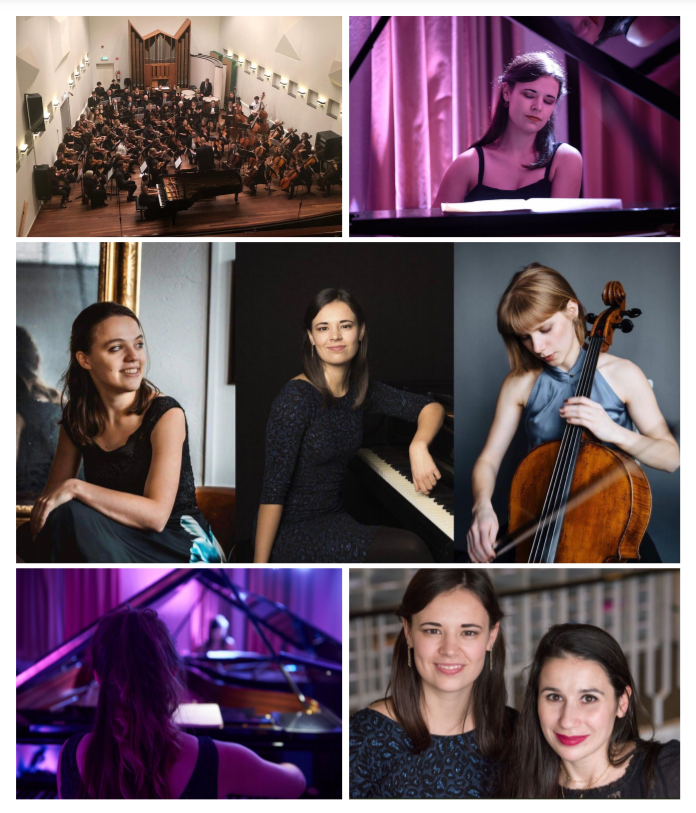 Photos by Senén Fernandez, Constant Notten, Frank Hirschhausen, Felix Quaedvlieg