Fem Devos (°1995) is a Belgian pianist, based in Brussels. She is a versatile musician, who enjoys being involved in various aspects of the classical music universe: playing chamber music as well as playing solo music, on both modern and historical pianos.
Classical music, or even music in general, is one of the most intimate forms of communication between people, which is why Fem gives great importance to sharing intense emotions with the audience. Besides the standard repertoire, she also likes to bring some lesser-known music onto the scene.
In the coming weeks and months, Fem will mainly focus on the Chekhov Trio, the piano trio she has been playing in since 2016 together with Dutch violinist Emma Rhebergen and American (with Cuban/Ukrainian roots) cellist Anna Litvinenko. At the end of June, they will record their first CD, featuring the piano trios of Frank Martin, Henriëtte Bosmans and Ernest Chausson. The CD will be released by Etcetera Records in early October.
Recently the ensemble was selected by the Orlando Festival for a concert tour in the Netherlands and Belgium, in collaboration with Squire Artists. In the autumn of 2022, they will perform at impressive venues such as Bozar in Brussels (Next Generation), the Concertgebouw Amsterdam and Parkstad Limburg Theatres in Heerlen, among others.
Although her love for playing chamber music is really big, because of the chance to share ideas with each other and her passion for the repertoire, Fem also really enjoys playing solo. The freedom of playing alone and the unique communication with the audience gives her great satisfaction.
In the past year, her interest in historical pianos and pianofortes has grown considerately. For instance, in March she appeared in an exclusive video recording/film by BNP Paribas Fortis, on a replica of the Steinway No.1 (original from 1836). In April, she worked on a project about a recently restored Steinway & Sons square piano from 1869, concluding with an inauguration recital featuring works by Johannes Brahms, Clara Schumann and Fanny Mendelssohn.
She is currently working on programs for the new season, including French music by Rameau, Chabrier and Poulenc, and a program around Bartok, Dohnanyi and Brahms.
Fem obtained her bachelor's degree at the Conservatoire of Ghent with Vitaly Samoshko in 2016. Then she moved to Maastricht to complete her studies with Katia Veekmans, where she finished the bachelor in 2017 and the master in 2019 with the highest possible mark.
In 2019 she was selected for the finals of the Music Award Maastricht, where she impressed with her performance of Rachmaninov's 2nd Piano Sonata. Besides playing recitals in Brussels, Ghent, Kortrijk, Wervik and Maastricht, among others, a highlight for Fem is the performance of Saint-Saëns' 5th piano concerto, with the University Orchestra of Maastricht (Feb. 2019) and with the Continuo Orchestra in Ghent (June 2019). Fem drew new inspiration from piano lessons with Julien Libeer, Enrico Pace, Valentina Berman, Daniel Blumenthal, Philippe Entremont and Marie-Noëlle Damien, among others.
The Chekhov Trio was a finalist at the Ysaÿe International Music Competition in Liege in 2019 and won the second prize at the International Music Competition Triomphe de l'Art in Brussels (2018). During their studies in Maastricht, the trio had lessons from Henk Guittart (Schönberg Quartet), who they still meet up with for both artistic and professional coaching. They have participated multiple times at the Orlando Festival in Kerkrade (in 2018-19-22) and followed master classes over the course of years with Osiris Trio, Enrico Bronzi (Trio di Parma), Wolfgang Redik (Vianna Piano Trio), Shuann Chai, Shunske Sato and Sigiswald Kuijken, among others.
Next to her career as a performer, Fem works part time as a Piano consultant for Piano's Maene, where she advises clients on their path to the piano of their dreams. Working there has given her a new perspective on the process of manufacturing pianos and its worth in general, which made her appreciate the instrument even more.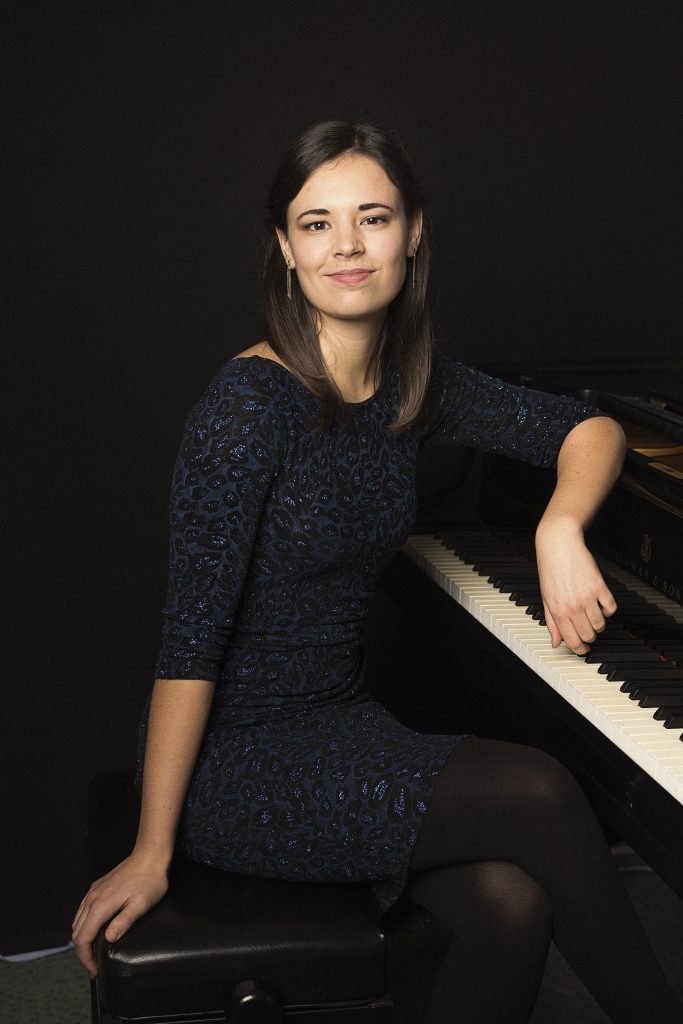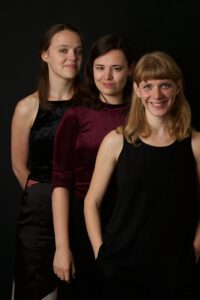 Photos by Constant Notten, Frank Hirschhausen